Jean Paul Geai, an active and enthusiastic member of the PVC, takes us on a guided tour of the famous Pacifics and their place in the age of steam.
---
THE PACIFIC LOCOMOTIVES OF THE CHEMIN DE FER DE L'ETAT
On the eve of the First World War, the Réseau de l'Etat [French State Railway], like the other French railway systems, found itself faced with a steady increase in the weight of passenger trains.
By then the locomotive department possessed powerful 4-cylinder compound 4-6-0 locomotives, together with 50 Pacifics numbered 231.011 – 060, and two prototype Pacifics from the former Ouest company, Nos. 2901 and 2902.
The latter, however, were rather unreliable.
The Etat Motive Power Department under M, Nadal wanted to solve once and for all the difficulties of working express and rapide services, so designed a new 4-cylinder compound Pacific.
To speed the design process, the new engines were closely based on the Paris-Orléans 3500 class which had entered service in 1908. Modifications to the P.O. design were chiefly dictated by the more restricted Ouest loading gauge:
- Round-topped firebox in place of Belpaire type.
- Cab Upper side sheets sloped inwards.
The first locomotive to be delivered, No 231.501, built by Fives-Lille went into service in the summer of 1914, not a favourable moment for systematic running trials. The outbreak of war curtailed construction of further locomotives. 231.502 was taken to Germany by the occupying forces, as were the uncompleted 504 and 506. These engines were returned after the war. 502 went to the Nord as 3.1150 [nicknamed 'La Bretonne'; returned to SNCF Ouest region in 1947 as 231 F 784, the number 701 having been re-allocated]; 504 and 506 were completed but given Etat numbers 231.782 and 783.
However, several orders were placed during and after the conflict. Four builders delivered a total of 283 Pacifics to the Etat.
- North British was asked to supply 231.650 to 689, which were delivered during the war between 1916-1917.
- Schneider delivered 231.690 to 739 in 1920 and 1921.
- Fives-Lille supplied 231.602 to 649, 780 and 781 in 1921.
- Batignolles-Châtillon works [at Nantes] delivered 231.502 to 601 and 231.740 to 779 in 1922.
This large fleet of Pacifics provided the backbone of express and rapide haulage on the Etat's routes radiating from Paris and on several cross-country lines. As they went into service, they displaced the 4-6-0s on to secondary duties.
Allocated to the depots of Batignolles, Vaugirard (later Montrouge) Caen, Le Havre, Laval, Brest, Thouars, they later found their way also to Le Mans, Rennes, Rouen Martainville, Sotteville, Cherbourg, Dieppe…
They worked the following lines in the course of their long career:
-Paris / Rouen / Le Havre.
-Paris / Caen / Cherbourg (Deauville in summer).
-Paris / Le Mans / Brest.
-Paris / Royan.
-Paris / Gisors / Dieppe.
-Paris / Niort.
-Paris / Argentan / Granville.
-Rouen / Mézidon / Argentan / Le Mans.
-Rouen / L'Aigle / Le Mans.
-Rennes / Auray.
-Rennes / Nantes / Bordeaux / Rennes / Saint Malo.
-Poitiers / La Rochelle.
-Le Mans / Angers / Nantes / Le Croisic….
Throughout their long career, the Motive Power Department of the Etat made numerous modifications to its fleet of Pacifics, intended to improve their performance and coal and water economy.
First, the Nord blastpipe was replaced by the PLM trèfle, then several types of feed-water heater were tried. Caillé-Potonié equipment was fitted to some engines in 1925, beginning with 231.616. Temperamental in operation and aesthetically regrettable, this system was quickly abandoned. Some locomotives received a Worthington feed-water heater, others Metcalfe exhaust-steam injectors as used on the Est. Several locomotives had a Dabeg feed-water heater. This equipment was generally reliable but had an annoying tendency to cease functioning above 100 km/h, a major drawback for a Pacific which was permitted to run at 120 km/h. Finally, ACFI apparatus (types 210. 230 and 254) was adopted for the whole of the fleet. The exchanger drums were mounted on the boiler, between the chimney and the steam dome.
To prevent smoke from obscuring the crew's view, deflector plates were fitted on either side of the smokebox. These minor modifications were merely a foretaste of the radical transformations which would take place from 1933.
In 1934, twenty additional engines were taken into Etat stock from the P.O. where they had been displaced by electrification at 1500 V. They became Etat 231.401 to 420 and brought the Etat total to over 300 locomotives.
A period of renovation
In 1929, M. Raoul Dautry organised a series of comparative trials on the Paris – Cherbourg line, between three types of locomotive:
- Nord Pacific No. 3.1214
- Est Mountain No. 241-001
- An Etat Pacific of class 231.500
The outcome was an order from Cail and Fives-Lille for a batch of the Est Mountains, delivered from 1931.
These locomotives creamed off the best trains from the Etat Pacifics.

But the Mountains were heavy and their curving characteristics were inadequate, and their reign ended abruptly with the disaster at St. Elier (Eure).

On 26 October 1933, Paris – Cherbourg train No. 354, hauled by 241.022 of Batignolles depot, derailed.

There were many casualties in this accident [36 killed, 68 injured], and as a result, these locomotives were transferred to the Brittany lines where heavy expresses were timed an no better than 90 km/h.

This was the start of a new and sparkling career for the Pacifics, which had seemed threatened by the Mountains.

The Motive Power Department of the Etat could not overlook the performance of PO Pacific 3566 which had been modified by Chapelon at Tours works in 1929. In 1933, at the behest of Raoul Dautry, the dynamic Director of the Etat, a radical transformation of the 231.500 class took place, although less comprehensive than the work done by Chapelon himself on 3566.

Three variants were initially applied:

- Dabeg poppet valves on the LP cylinders: 231D class.

- Renaud poppet valves on the LP cylinders: 231R class.

- Willoteaux piston valves on the LP cylinders: 231W class.

In addition, all three groups of locomotives had a revised steam circuit with enlarged cross section, lengthened smokebox and replacement of the Schmidt superheater by the Houlet type on some locomotives.

Kylchap exhaust was fitted, greatly improving the rate of steaming. PO pattern smoke deflectors were fitted and a second, air-operated sandbox added to improve adhesion on starting.

The first batch of rebuilt engines was allocated to Batignolles depot to work expresses and rapides on the routes to Normandy. Whilst the 231 Ds and Ws proved their qualities, the 231 Rs with Renaud valves did not produce the anticipated improvement.

Pacific 231 DD Etat (231 G SNCF)

In 1932, a new locomotive, the so-called Super Mountain, No. 241.101, with Renaud valve gear, entered service. They built this huge engine to see what it could do … and they saw. The colossus turned out to be a complete turkey and came nowhere near developing the power expected of it! Chastened by its failure and impressed by the performance of PO rebuilt Pacifics 3701 – 3720, the Etat decided on a radical rebuild of its own 231.644. In Sotteville works, this locomotive received all the features which had led to the success of the PO 3700s.

We will recall that the Etat 231.500 class were originally a copy of the PO 2500 Pacifics and differed only in detail. As we shall see, collaboration between the Motive Power Departments on the PO and Etat bore remarkable results.

The new locomotive, 231.644, was created at Quatre Mares works near Rouen.

It received the following modifications:

- Enlarged passages throughout the steam circuit.

- Lengthened smokebox.

- Schmidt superheater replaced by Houlet.

- Trèfle exhaust replaced by double Kylchap 2K/2C; oval chimney different from the PO lipped pattern.

- Dabeg poppet valves on both HP and LP cylinders, the key feature of this rebuild.

- Balanced built-up crank axle for inside (LP) motion, and Léonard wheels.

- ACFI type 254 feed-water heater.

- 24-way Bosch lubricator in the cab and 24-way Bourdon lubricator on the running plate.

For ease of access to the LP cylinders, the running plate was raised alongside them them. Further, this locomotive received a new smokebox door, inspired by the Nord pattern, with two arms meeting in the centre at a pointed boss.
Thus rebuilt, the new machine, now numbered 231.644 DD [= double Dabeg] exuded an impression of real power.
From the very first trials, apart from a few minor adjustments to the Dabeg valve gear, this engine fulfilled all the hopes the designers had placed in it. The decision was taken to rebuild thirty more locomotives: 231 DD 412, 501, 502, 513, 516, 519, 521, 530, 537, 553, 556, 558, 562, 575, 586, 588, 592, 600, 607, 609, 629, 938, 645, 958, 665, 698, 706, 719, 763, 772.
Quatre Mares shops undertook the work. The thirty locomotives were outshopped very rapidly. The first, 231.516, was delivered in February 1936 and the last, 231.592, in May 1936. These 30 engines differed from 231 DD 644 in having a Schmidt superheater with 30 tubes 38 mm in diameter, and Coale instead of Lethuillier-Pinel safety valves.
The speed of the rebuilding is ample evidence of the Etat's determination to improve the performance of its rapides without delay.
The 30 locomotives were allocated to the depots of Batignolles, Caen and Le Havre, displacing the last of the Mountains from Batignolles to Brittany (there were seemingly no regrets on the part of their firemen on this score). The 4-8-2s were penalised by their poor curving qualities at speed.
During 1936, 231 DD 644 and 516 were subjected to very thorough testing, using the Czeczott method with an OCEM dynamometer car and three 230.600 class 4-6-0s as brake locomotives.
For a few months, 231 DD 644 had its Kylchap exhaust replaced by a large diameter Lemaître. This gave no advantage and the Kylchap was refitted.
In the course of these trials, the consumption of fuel and water were found to be somewhat excessive. This was remedied by altering the profile of the cams. The double Kylchap exhaust having given good results in service, two engines, 231.632 and 749, selected for rebuild with Willoteaux valves on HP and LP, also got this type of exhaust.
The 231 DDs and these two 231 Ws were the only Etat Pacfics to have double chimneys.
At this period, some engines were fitted with Pottier glassless spectacle windows, but this inelegant arrangement was not widely applied and later abandoned. [The Pottier device was a series of deflectors round the spectacle opening in the cab front, intended to create a 'dead' area of neutral airflow and giving crew clear forward vision without the need for spectacle glasses which could get dirty.]
The 231 DDs with the 231 Ds and Ws worked the fast trains on Paris / Caen /
Cherbourg, Paris / Rouen / Le Havre and Paris / Lisieux / Deauville in summer.

It should be noted that the 231 DDs spent almost their entire career on these routes.

With titulaire crews [single-manned] these locomotives were recorded at the time as covering over 400 km a day!

As an example here is the average fuel consumption of a Batignolles-based 231G in 1938:

Paris / Le Havre, 340-tonne train in December: 5.5 kg coal per kilomètre per 100 tonnes load. That is 4.1 tonnes of coal for the whole journey (includes train heating).

In summer, for the same load, this fell to 4.5 kg coal per kilomètre per 100 tonnes load, or 3.5 tonnes of coal for the trip.

On a 700-tonne test train from Clichy [outside Paris] to Le Havre, 231 DD 516 covered the distance at an average 105.5 km/h.

In 1937, some 231 DDs were taken out of the Batignolles roster and seconded to Montrouge depot to work expresses on the newly-electrified line to Le Mans, as the 2D2 501 class of electric locos had not all been delivered. The 231 DDs kept time despite the very tight schedule of these trains.
When the SNCF was formed on 1 January 1938 the 231 DDs were reclassified 231 G.
The new numbers were at first painted on the cabsides and it was not until after the war that they received cast numberplates.

For almost two years 231 G 553 was left cut off on the line between Andrésy and Limay as a result of the destruction of the Eiffle and Limay bridges. It worked a passenger shuttle service using two Talbot coaches. [These were steel-bodied suburban-type saloon stock, so called because built by the Talbot works in Germany as part of reparations for WW 1]
Starting in 1943, as with other classes, the 231 Gs were fitted with TIA (Traitement Intégral Armand: chemical boiler-scale prevention).
The mixing tank was first mounted between the dome and the leading sandbox to the detriment of the locomotives' appearance.

It was later re-positioned on the tender, both a practical and an aesthetic improvement.
As Sotteville Quatre Mares works were badly damaged by bombing, several engines were repaired in the works at Périgueux, Thouars or even Nantes St. Joseph.
From 1946, the Fives-Lille brake pumps were repaced by Martin double compound pumps fitted on the boiler side above the second coupled axle.
At this time a turbo-generator was fitted for electric lighting. The cab roof was extended to give better protection to the crew. During 1946, 231 Gs were allocated as follows:
- 11 at Batignolles.
- 14 at Caen.
- 3 at Le Havre.
- One each at Evreux and Le Mans as reserves for the electrified lines.
The year 1947 saw these locomotives concentrated on three depots : Batignolles, Caen et Le Havre.
Their duties were hauling expresses on the two Normandy lines: Paris – Cherbourg and Paris – Le Havre, but they also worked Caen – Le Mans trains.
On 1 January 1954, Batignolles still had 11 231 Gs: 513, 519, 521, 553, 562, 592, 600, 607, 638, 644 et 772. Le Havre four: 412, 575, 588, 763. Caen 15: 501, 502, 530, 537, 556, 558, 586, 609, 629, 645, 658, 698, 706 et 719.
Around this time the appearance of some (not all) locomotives was further improved by fitting a modern Nord-pattern smokebox door.
In 1955, five engines were transferred to Rouen Martainville: 231 G 412, 588, 644, 763 et 698. The latter worked President Coty's official train on 24 June 1956.
The 231 Gs, rostered alongside the 231 Ds, worked the rapides and expresses on Paris / Le Havre, Rouen / Caen, Paris / Dieppe, Paris / Caen / Cherbourg, Paris / Deauville and, in addition, a fast freight (régime accéléré) diagram and some parcels trains.
In 1957, the transfer of some 231 Ds and Fs from Saintes and Rennes to Batignolles, Sotteville and Le Havre allowed the withdrawal of the first 231 Ds and Gs whose boiler certificate had expired.
Thus, in May 1958, 231 G 592 of Batignolles was stored pending withdrawal (attente d'amortissement). This engine, together with 231 F 632 had appeared in the film La Bête Humaine [in 1938, starring Jean Gabin; English title 'Judas was a Woman'].
231 G 772 was taken out of service in 1960.
At this period, when electrification work was under way at the Gare du Nord, Batignolles 231 Gs and 231 Ds worked Paris-St. Lazare – Beauvais trains of Talbot stock.
The year 1961 saw locomotives 501 and 586 (Caen) withdrawn for good. "Grandmother", [the oldest of the class] 231 G 644 of Batignolles, was laid aside in February 1962. In the same year, Caen withdrew 231 G 609.
In 1963 fate threatened the 231 Gs and 231 Ds alike: heavy diesel traction was on the way. It had already been foreshadowed in 1956/7 by the 060 DB, later 65000 class. These main-line locomotives had ousted the powerful 231 F (Willoteaux valves) from express service around La Rochelle and Saintes. These Pacifics came to Rouen, where the best of them took over the duties of the 231 Hs of which mass withdrawals had begun.
In November 1963, A1A A1A 68004 showed its face at Caen depot. It was joined over the winter by more of the class as they were delivered from the builders. They began to cream off all the "best" duties of the 231 Ds and Gs of that depot. Further, in the course of the year 1964, new BB 67000s arrived at Caen to join the rout. In a few months, the armada of diesel locomotives left the Pacifics only with reserve duties. It became rare to see a 231 D or G from Caen at the buffers at Gare St. Lazare (except in the case of a failed 68000… Yes, it did happen!). The usable engines from Caen were sent to Batignolles or Le Havre.
In 1965, G 521, 607 and 638 (Batignolles) and G 530 and 575 (Caen) were taken out of service. Le Havre lost G 588 and 706, In the winter 1965-1966 timetable the number of 68000s and 67000s allocated to Caen kept growing. It became possible to use them on trains on the Paris – Le Havre line whilst electrification was in progress, leaving the Pacifics to work only the tightly-timed Paris – Le Havre rapides Nos 101/102 and 121/114 (only the 231 Ds and 231 Gs could work this schedule, ample commentary on their capabilities), weekend extras and the now-infrequent transatlantiques [boat trains], which themselves were fast disappearing.
The 231 Ds and Gs still in service were reduced to working a few outer suburban services from Paris to Oissel and even Gisors, at the head of trains of Talbot stock.
In March 1966, Batignolles still had five 231 Gs: 513, 519, 553, 562 and 600. Le Havre had eight: 412, 502, 537, 558, 629, 645, 698, 763. Numbers 556, 665 and 719 wre already struck off.
In the summer timetable, these engines and a few 231 Ds worked relief trains in addition to their final regular diagrams which still inluded rapides 101/102 and 121/114, plus a number of parcels trains out of Batignolles.
19 September 1966 saw the official last run of Pacifics from Paris –St. Lazare. 'Presidential' locomotive 231 G 698, polished to perfection, took out the last Paris – Le Havre train 101 in the morning. At 19.35 in the evening, it was the turn of 231 G 537 to work the last steam-hauled train 121 Le Havre – Paris.
A few Le Havre Pacifics could be seen for a few more weeks at St. Lazare on train 1007 for Gisors.
Batignolles depot, in course of demolition, now had no allocation of locomotives.
At the start of 1967, only Le Havre depot still had six 231 Gs: 502, 537, 645, 553, 556 and 562. (231 G 629, 698, 412 and 763 were in store, with a handful of 231 Ds).
These engines worked only short-distance trains to Rouen and Rolleville. It was the end of a fine story.
As electrification reached Motteville, the Pacifics were not allowed even a lap of honour by taking trains on from there to Le Havre. Oil-burning 141 Rs of the 1300 series were chosen for this duty. The surviving 231 Gs and Ds at Le Havre were finally put in store. 231 G 629 was repainted and displayed at an exhibition in Le Havre station in December 1967,
As 1967 dawned, only three 231 Gs – 502, 558 and 645 – and three 231 Ds escaped the breaker's torch and were sent to Nantes depot to replace that depot's 231 Ds whose boiler certificate had expired.
231 G 502 saw little service. G 558 and 645, however, worked many trains from Nantes to Les Sables-d'Olonne and Le Croisic until 29 September 1968, when 231 G 558 was rostered to haul the last train from Nantes to Le Croisic (No 757) and return (756).
The following day, a CC 72000 took over this diagram, finally ringing down the curtain on the era of the Pacifics in the western region.
A SECOND CAREER FOR 231 G 558
Our 'Princess' was born under a favourable star. When all her sisters were destined for the breaker's torch, the good condition of her boiler earned her a reprieve. In 1969 she ran under her own steam to Dieppe to replace 231 D 744 as a stationary heating plant for oil fuel for the ferries.
231 G 558 remained in steam intermittently until the spring of 1970. She was then stored – still with valve gear in place – in Dieppe passenger station, where we found her in 1971. In that year an attempt to save this engine almost succeeded.
The locomotive spent nearly three years at Dieppe station, where, exposed to the weather and sea air, its external appearance began to deteriorate.
In 1974, this engine, the last example of the Pacifics, was brought back to Sotteville depot where, after a short period in store, it was adopted by former steam drivers and firemen, repainted in Quatre-Mares works and then shedded under cover.
Then, thanks to the efforts of a number of enthusiasts, the SNCF donated the locomotive to the Amicale des Chefs de Traction, who entrusted it to the Association formed for the purpose: Pacific Vapeur Club. After a series of outings ('dead') to Paris St Lazare, Conches, Oiseel and even Deauville, it was taken in hand by Club members who gave the engine a through overhaul to bring it back to life.
On 11 June 1986, after years of replacing parts, fitting and adjustment, the engine was steamed to make two trips from Sotteville to Elbeuf and back, with a BB 63000 diesel coupled in reserve. On Sunday 29 June 1986, 231 G 558 hauled its memorable inaugural train Sotteville / Beaumont-le-Roger / Evreux / Paris / Sotteville.
From that date, it has worked many special trains, with great success.
After a boiler overhaul and test in 1995, it continued its adventures on diverse routes – some of them far from its home depot of Sotteville.
Following a further lengthy and expensive refurbishment, including wahsout and boiler test at Gray works, 231 G 558 returned to Sotteville on 24 April 2003. On 26 of that month it was back on the line and went to Le Havre to work a special Le Havre / Rouen / Amiens / Noyelles for the Fête de la Vapeur on the Chemin de Fer de la Baie de Somme. 231 G 558, with its period train formed of an Etat luggage van, mail van, five OCEM second-class coaches (B10), one first class (A8) and a brake-second (B4D), is a favourite subject for journalists and photographers.
Moral of this story:
This stalwart, 80-year-old Pacific, resident at Sotteville depot, has witnessed the death throes of the A1A-A1A 68000 diesels as one after another was withdrawn: the same 68000s that had de-throned the 231 Ds and Gs in 1964-5! As you can see, the Princess is in good hands and has been present at the funeral of the locomotives that replaced her.
For the pleasure of all, we wish her a long career at the head of steam specials in the future, and look to the members of PVC to celebrate with due ceremony the Princess's 80th (actually 81st) birthday.
Jean-Paul Geai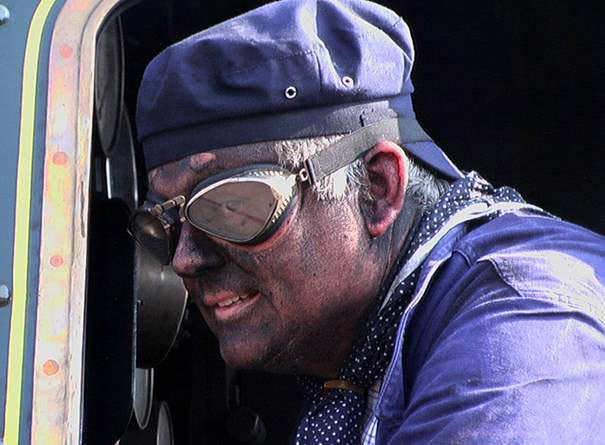 (English translation: Andy Hart, The SNCF Society)
[Insertions in square brackets are by the translator]
Ref : Les PACIFIC ETAT by André Lepage and various Etat and SNCF documents.
Specification of 231 G 558.
One of class 231.501-783
Express 4-6-2 (Pacific) locomotive, 4-cylinder compound
Grate area : 4,3 m²
Boiler pressure : 16 hectopièzes
Cylinder diameter :
HP (outside) …420 mm
LP (inside) …640 mm
Piston stroke … 650 mm
Dabeg poppet valve gear on both HP and LP cylinders.
Boiler water volume : 8500 litres.
Maximum horsepower: 2500
Consumption: water 15 m3 / hour maximum. Coal 1.5 to 2 T per 100 km.
Driving wheel diameter: 1,94 m
Weight in working order: 103,2 T
Length: 13,665m
Maximum speed in service: 130 km/h
Maximum speed on test: 155 km/h was attained
Maximum speed currently permitted by SNCF: 100 Km/h
Trailing load on level track:
600 t at 120 Km/h
500 t at 130 Km/h
Tender: 22 C 367
Capacity :
12 T coal
22 m² water (22,000 litres)
Empty weight 25,5 t
Loaded weight 60 t.
Service record
- 19 July 1922: allocated to Thouars depot.
- 22 June 1936: outshopped at Sotteville Quatre Mares after rebuild. Renumbered 231 558 DD and allocated to Caen depot.
- 6 March 1965: allocated to Le Havre depot.
- 13 July 1967: allocated to Nantes-Blottereau depot.
- 29 September 1968: worked the last steam trains 753 et 756 between Nantes and Le Croisic.
- 19 December 1968: withdrawn from service at Nantes-Blottereau.
- 1968-1972: at Dieppe depot serving as stationary boiler for heating oil fuel for Dieppe – Newhaven car-ferries
- 31 October 1972: placed in store at Sotteville depot.